Our Featured Favorite Style...
Evette
1-877-767-9049
Please know ladies...that when you purchase a wig from us...it is AUTOMATICALLY Billed DISCREETLY (Your statement will read "CM Products"), Comes with a Free wig Cap, FREE SHIPPING and DISCREET packaging (A plain priority mail box with just our return address - NO Business Name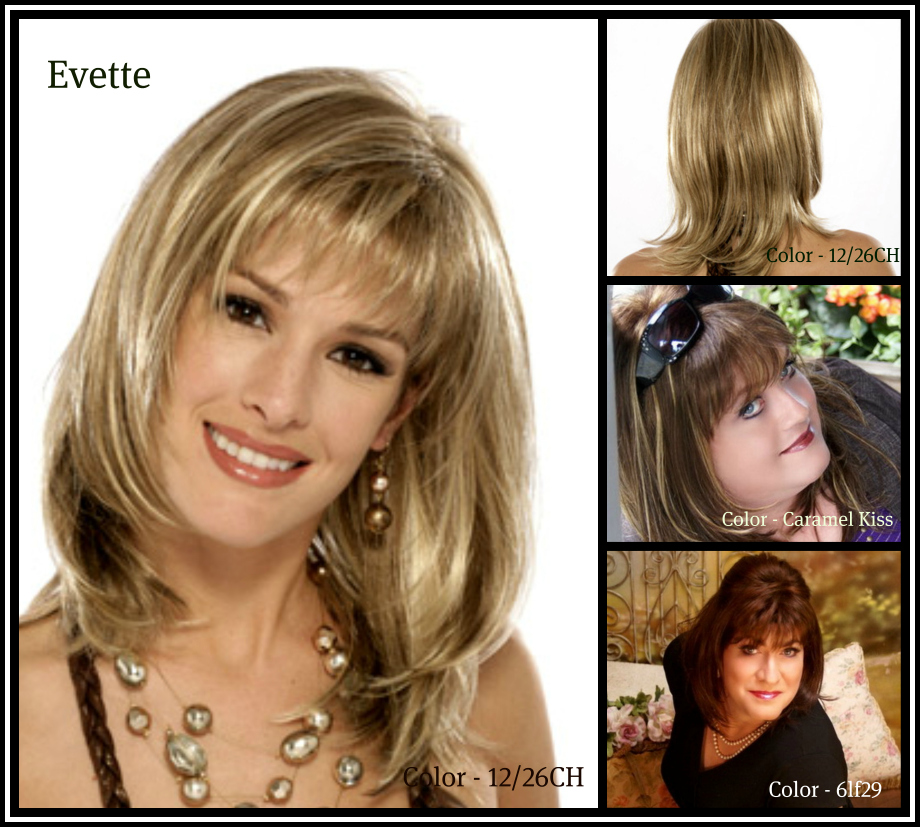 Evette..........$200.00 FREE shipping....
Fabulous and believable...Bangs are ready to wear just as they are (No trimming needed) - Gorgeous...very comfortable....PURE STRETCH CAP....See more details below...
(colors shown - 12/26CH, Caramel Kiss, & 6lf29))
More Fabulous Colors Available Below...
A special thanks to our lovely wig Models Katrina and Kristen
This particular line of wigs is Fabulous....it has a PURE STRETCH CAP...comfy...fits any head size and very secure...it stretches all the way around (See Diagram Below) -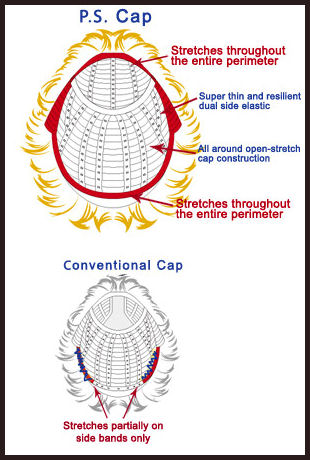 Treat yourself girls....how fun!
To Purchase please call Toll Free 1-877-767-9049
Please feel free to send me an email with your picture.... I'd love to help you find the right color and style..... the link to my wigs and you can purchase them from is is www.esteticadesigns.com Choose a fab wig...a color...and send me an email.... wiggoddess@comcast.net Discreet billing and shipping and shipping within the U.S. is ALWAYS FREE!
COLOR...here's the deal....This company makes gorgeous colors...I've been in the wig business for over 12 years...and the guess work is over...these are my best selling, most realistic Colors at the store. If you don't see a color you would like...give me a call toll free 1-877-767-9049 or

me. NOTE: If you have a credit card on file with us already...just email me and I'll ship one out to you.
Beautiful Browns - Their BEST Browns
8LF14

Golden Brown Lightening to Dark Blonde Mix in Front

Caramel Kiss

Gorgeous rich brown with Caramel Blonde Streaks - A best selling color

R8

Golden Brown

R14/8H

Golden Brown with Dark Blonde Highlight
Beautiful Blondes - Their BEST selling Blondes...
12/26CH

Gorgeous Light - Light Brown with Natural highlighted overlay of a slighter lighter brown/Blonde

R20F

Light Auburny Golden Blonde Frost

R1488

Highlighted Coppery Blonde
Beautiful Reds/Auburns - Their BEST selling Auburns/Reds...
6LF29

A Rich brown with a Rich NON brassy Auburn

33LF24

Auburn and Gold Blonde Mix

me your picture...I'd love to help you find just the right color and style for your face ladies.... Also Check out the other wigs I carry from this fabulous line here Note: All wigs from my wiggoddess.com site automatically have FREE DISCREET SHIPPING and BILLING & FREE WIG CAP. WAHOO!
Don't forget our Fabulous Portrait Packages...
Our Makeover/Photo shoot Packages include:
* Full Face Professional Makeover (To include Fabulous lashes) - (Please bring Preglued nails - Kiss or Broadway makes a wonderful FLAT preglue. They can be found at any drug store nationwide galz)
* Use of Wig that is perfect for your face
* Pictures both mailed (On Disk) & Emailed to you within 2 weeks - It's so much fun being a girl!
Click HERE for pricing and Our DETAILED service packages available...